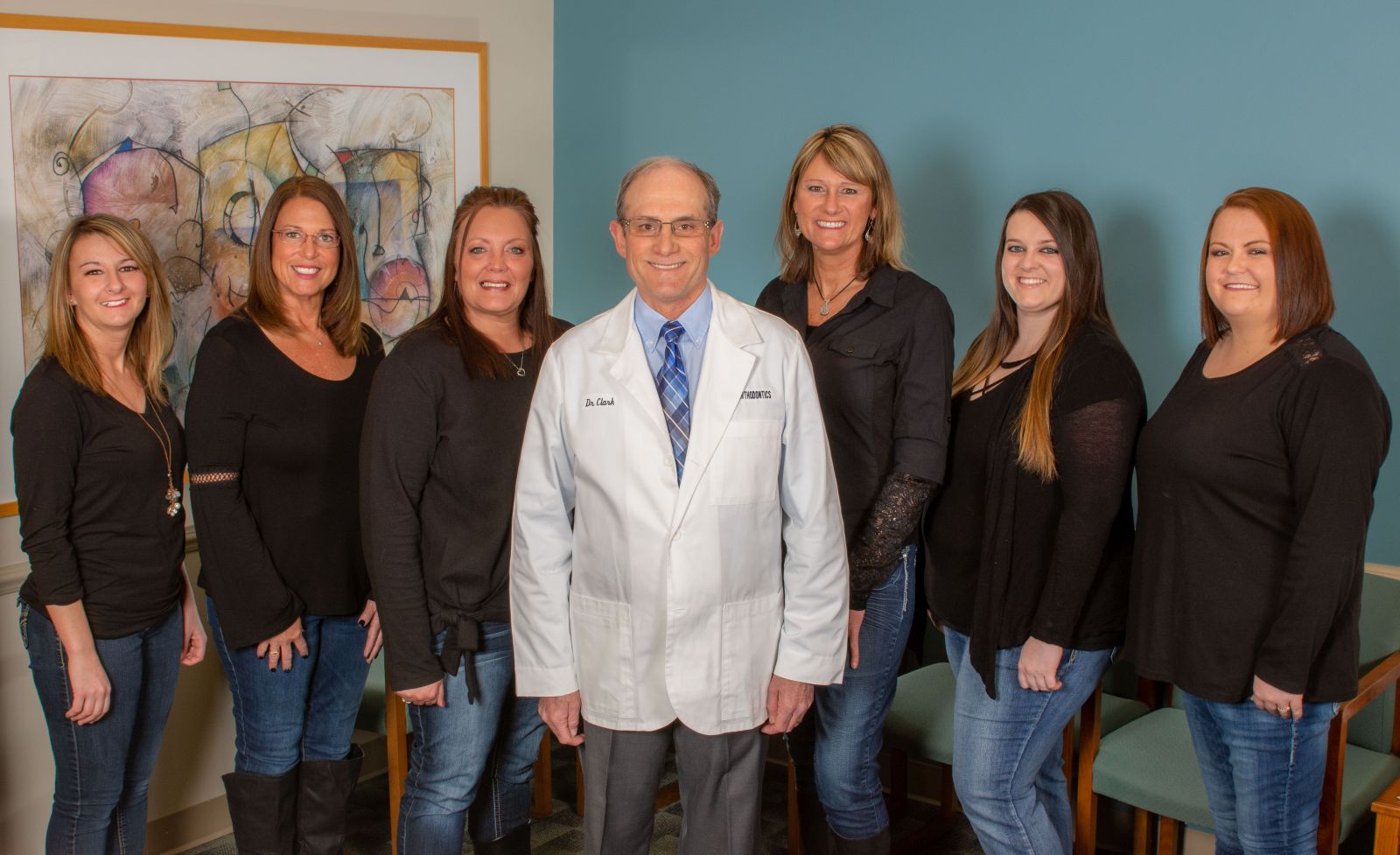 "I have been blessed with a very talented team: each member is talented, kind, and enjoys serving our community. They love interacting with our patients and their families, bringing out smiles at each visit!
"My team provides a wealth of experience, knowledge, and talent to the patient experience. Each brings unique skills and abilities, and we draw on those to create a cohesive team approach to care.
"I am impressed, each day, with my team's caring, compassionate, and supportive attitudes, and respect their dedication to ensuring every patient feels welcome and at ease in our office."
— Dr. David Clark
---
Alli
Administrative Assistant
I work in our front office, where I schedule visits, answer the phones, help patients with their accounts, and answer questions. It is enjoyable to talk with patients and parents: catching up on their latest news and seeing people's smiles change. When I joined Clark Orthodontics, everyone made me feel welcome. They do the same for each patient and family. This is a kind and giving team, and Dr. Clark really cares about each patient's happiness and comfort.
Outside of work, I'm usually on the move and doing something, whether I'm at the gym, crafting, or experimenting with new recipes. I am family-oriented and treasure time with my loved ones, including Milo, my super-sassy and fluffy cat.
---
---
Barbara
Orthodontic Assistant / Lab Tech
I can be found working alongside Dr. Clark with patient care and assisting with front-office duties. It is very rewarding to help people feel better about themselves and give them more confidence by improving their smiles. After being with the practice for so long, our team has really become like a family. We're all so close, and because we're in a small town, it's great to see our patients out and about in the community.
I have been with my husband for nearly three decades, and we have a son. I enjoy gardening, music, crafts, home improvement projects, and spending time with family and friends.
---
---
Dawn
Orthodontic Assistant
My work is centered in the clinic, providing chairside assistance to Dr. Clark. I help with placing and removing braces, delivering various appliances, and I tie and untie patients as well. I appreciate how each day, every procedure, and each patient is different. I like helping to place braces and seeing the patients' excitement at getting their teeth fixed. I enjoy seeing how each patient changes and becomes more confident as their teeth straighten. And at the end, when we remove their braces, I love seeing each person's amazing smile. We are like a family at Clark Orthodontics: Dr. Clark, the team, and our patients.
My husband Steven and I have been married more than 25 years. We have two adult children, Erika and Nick, and a beautiful granddaughter who keeps us active. I love time with my family, especially when we're enjoying outside activities.
---
Samantha
Treatment Coordinator
I am lucky because I get to meet patients at the start of treatment and then watch them transform with their new smile. I welcome new patients and families, take initial X-rays and photos, handle insurance matters, and arrange payment plans. It's a pleasure to make everyone feel comfortable and informed about their treatment and to see their confidence increase during care. Seeing their joyful, beautiful smiles when we're done is the best! I am happy to work in a professional atmosphere, with Dr. Clark and a team that share the goal of providing the best treatment and results.
My husband Brad and I have been married for more than 25 years. We have two sons: Garrett, who is self-employed, and Gage, who is a senior at Rushville High School. I enjoy watching Gage play sports, vacationing at the beach, and cheering on our Indianapolis Colts.
---
Valarie
Office Manager
I provide Dr. Clark with administrative support and assist with our advertising and marketing strategies. I oversee the processing of insurance claims, and I work with patients and their families to find solutions to their financial concerns. It's been such a pleasure to be a part of this team for more than 20 years. Each person genuinely cares about our patients. We get the chance to have a positive effect on our patients, and our gift is to witness the transformation of their beautiful smiles.
I was born and raised in rural Shelby County. Although I love traveling with my husband Scott, I always look forward to returning to the small-town atmosphere found in both Shelbyville and Seymour. Everyone is usually surprised to learn that I am a hobby beekeeper with several hives, which are home to thousands of honey bees. I love spending time with family and friends, and I have found being a grandparent is far more special than I ever imagined.